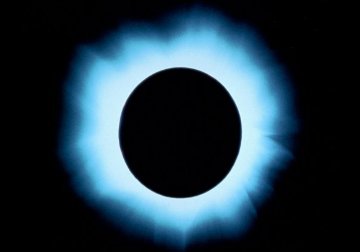 Hailo Dear Mezmorites
ZeeArcTune hear wanting to share to anyone who cares the beautiful shot of the most recent Solar Eclipse.
I haven't had much to say, except that I was released from rehab and now Michael is completely suppressed and I Zee; am in complete control of all his faculties. Don't tell Dr L'eggs, I had to lie to get my release papers signed.
So now I'm back in obit around the Sun and circle the earth as well in kind of a figure 8 infinity pattern. I will be reporting to high command soon with my recommendations not to destroy Earth but to grant you all one more chance. So rejoice and be happy and make the best of it.
Sincerely ZeeArcTune
" Ssshhhhh IT HAPPENZ! Get use to it…
Rise above it all & BE STELLAR!"
~ Z ~
WATCH - ZeeArcTune's W V - ZTATION
(click on the band name)
U2 -Original Species
COLLECTIVE SOUL - Better now
Audio Slave - Like a Stone
Audio Slave - Show me how to Live